Reach Your Fitness Goals and Beyond With Revive Lifestyle Memberships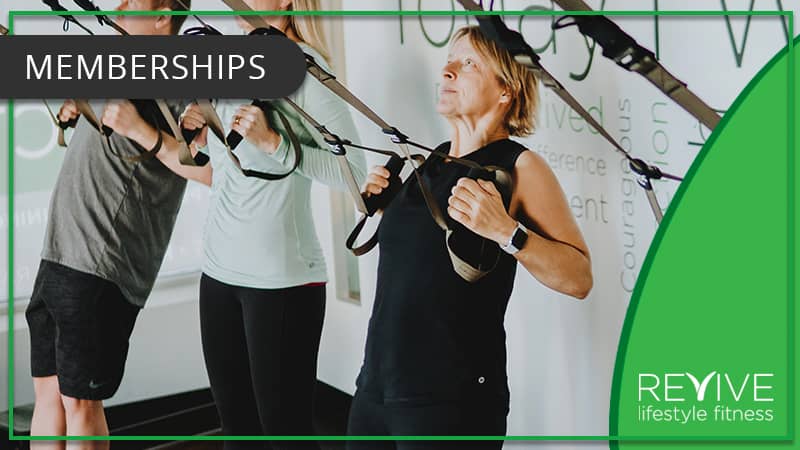 A Different Kind Of Membership.
Membership Options:
PREMIUM 8X/MONTH: Improved Fitness
EVOLVE 12X/MONTH (Most Popular): Body Composition/Visual changes
ELEVATE 30X/MONTH: Optimal results and performance
Membership Details:
Monthly autopay memberships (6-month terms available). 30 days notice is required to cancel.
Max Class Size of 12 Members per session
1 Body Composition Scan included monthly.
Access to a coach for accountability/support.
10% off Retail/Events.
2 Vacation Holds Per Year Included.
The Revive Advantage
Is your experience with traditional gym memberships disappointing? Are you tired of feeling like just another body in a jam-packed group fitness class? Are you looking for a fitness training option that offers personalized fitness strategies, support, accountability, and motivation? Are you looking for a better way to reach your fitness goals? Discover the Revive Lifestyle Fitness difference.
Membership: How It Works
When you are looking for a different, better way to achieve whole health and optimal fitness, consider Revive Lifestyle Fitness. Our skilled and professional fitness and health experts offer an elevated fitness experience to achieve your goals. Here is what you can expect when you explore the Revive Lifestyle Fitness difference.

1. Book An Intro Meeting

2. Create A Path To Success

3. Make Your Health A Priority

4. Your Fitness Journey
Book your complimentary intro meeting with us! We want to get to know you and learn more about where you feel stuck and where you need guidance. We want you to come in and get comfortable with the space, the team, and the other members.
Fitness Today. Health For A Lifetime.
Revive Lifestyle Fitness offers an elevated personal training and weight loss experience to achieve your fitness goals with the support of fitness and nutrition experts, and options for private, semi-private, and group personal training. Get stronger for longer and build sustainable habits for a lifetime of health and fitness at Revive.
Membership suspensions move the next auto-payment date forward by the number of days that a membership is suspended for. If you put your membership on hold, you must do so for a minimum of 14 days and up to a maximum of 30 days. You get 2 holds per year.
We have a 8-hour cancellation policy prior to the start of class. If you cancel less than 8 hours prior, you either lose a class from your membership or are charged a $20 cancellation fee if you have no classes remaining.
In-studio we run Revive Signature and Revive Strong classes. Strong classes run on Tuesday, Thursday, and Sunday and Signature classes run on all other days.
It's Time To Revive & Thrive, Together!
We believe in keeping you STRONGER FOR LONGER. With access to Calgary's best personal trainers, and fitness and nutrition experts, book your free consult and take advantage of our 21-Day Trial offer to truly experience The Revive Difference.
Visit us at 2503 14th St SW in Calgary, fill out the contact form, or give us a call today at 1-403-700-0338, and let's carve your wellness journey, together!
Fitness Today. Health For A Lifetime.

Revive Lifestyle Fitness is Calgary's premiere small group personal training and lifestyle facility. We have worked hard to build an inclusive, connected community of people committed to living healthy today and for a lifetime. Our team of the industry's top fitness experts are ready to support you on your own unique journey to optimal health and fitness. We focus on measurable and remarkable total body and lifestyle transformations to help you achieve lasting health and wellness. We promise to keep you stronger for longer.