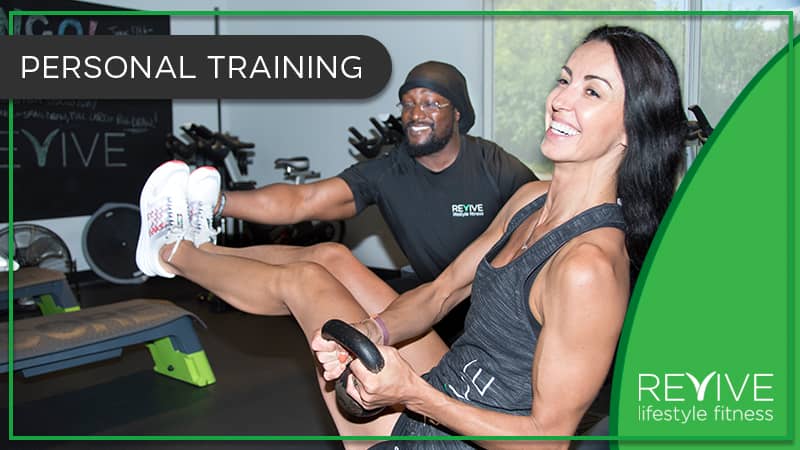 Do you have a fitness goal? It could be improved overall fitness, weight loss, muscle gain, or building endurance. Or it could be even more specific: training for a marathon or strengthening or toning a particular area like your back or your midsection, recovering after an injury. Whatever your unique fitness goal is, personal training is the best way to access focused and targeted fitness strategies to help you achieve it. When you need guidance, insight, motivation, and individualized strategies to achieve your goals, a personal trainer will make a difference. When you choose personal training at Revive Lifestyle Fitness, you leverage the knowledge and passion of our accomplished team of fitness experts to unlock the tools that will help you overcome obstacles and realize your goals for health, wellness, and optimal fitness.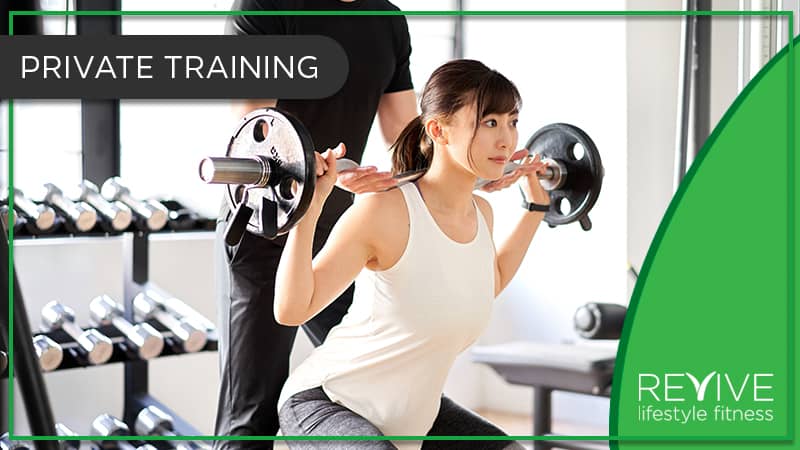 A Fitness Journey Designed Just For You.
Private training with a coach is a one-on-one, personalized fitness experience. When you choose private training you have your fitness coach's undivided attention.
Personal Attention: When you are just starting out, or need a specialized program, 1 on 1 sessions ensures you have 100% of the coaches attention.
Lifestyle coaching: Health is about more than just fitness. Our coaches can guide you to better habits that support your lifestyle.
Motivation and Coaching: The close-knit nature of private training offers unique support and candid motivation.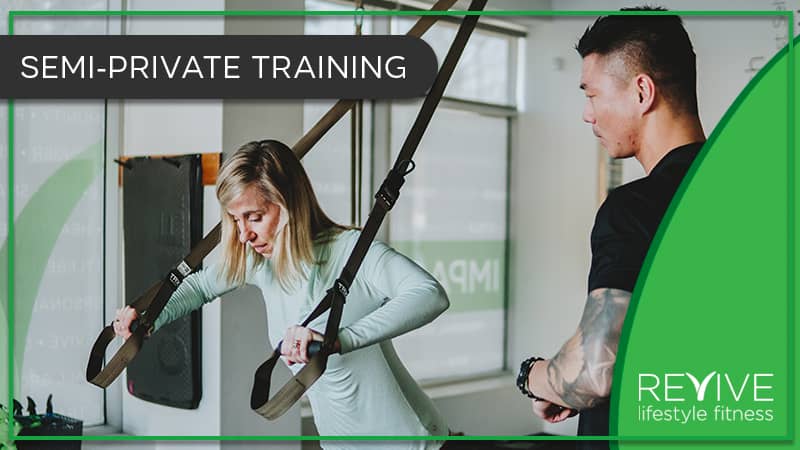 Small Groups. Big Results.
Semi-Private Personal training marries the best of both worlds: private personal training and small group fitness. This option is both economical and effective:
Max of 3 People: Recieve individualized coaching while working in a small group.
Affordability: Half the cost of regular 1on1 training
Personalized: Each client receives a personal program that supports their individual goals and needs
Your schedule, your budget, and your fitness goals will determine how frequently you should work with your personal trainer.
When you are choosing a trainer, it is important to find a trainer who you connect with, who you enjoy, who understands your goals, and whom you have confidence in. We recommend the Revive Lifestyle Fitness 21-Day Trial. This is an opportunity to share your fitness goals, try out some semi-private or group training sessions, and meet our coaches and trainers. If you aren't satisfied with your experience, we will refund your money, no questions asked.
We do! Each of our trainers has a unique background and passion for fitness. If you prefer to work out with a male or a female fitness coach, we can accommodate you.
It's Time To Revive & Thrive, Together!
We believe in keeping you STRONGER FOR LONGER. With access to Calgary's best personal trainers, and fitness and nutrition experts, book your free consult and take advantage of our 21-Day Trial offer to truly experience The Revive Difference.
Visit us at 2503 14th St SW in Calgary, fill out the contact form, or give us a call today at 1-403-700-0338, and let's carve your wellness journey, together!
Fitness Today. Health For A Lifetime.

Revive Lifestyle Fitness is Calgary's premiere small group personal training and lifestyle facility. We have worked hard to build an inclusive, connected community of people committed to living healthy today and for a lifetime. Our team of the industry's top fitness experts are ready to support you on your own unique journey to optimal health and fitness. We focus on measurable and remarkable total body and lifestyle transformations to help you achieve lasting health and wellness. We promise to keep you stronger for longer.