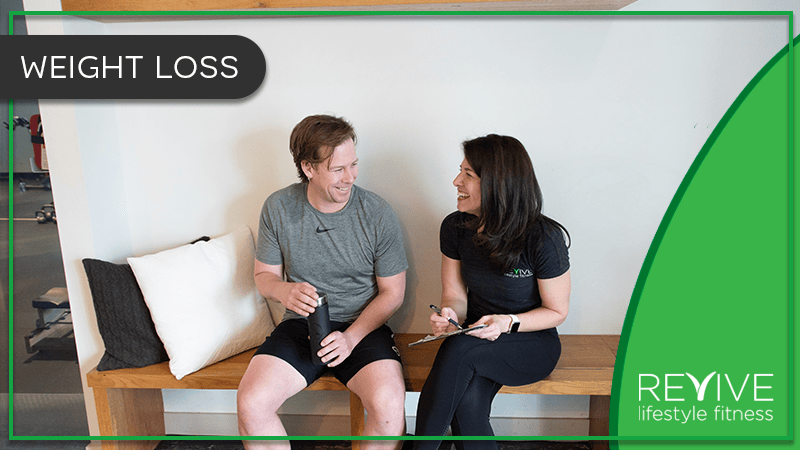 A Revive weight loss program is not really about losing weight. Weight loss is certainly part of it, but the transformation is more about health, strength, and sustainability. It is not about fitting your body into some popular definition of beauty or size, it is about finding the ideal weight for you to perform optimally through your lifestyle. This is a weight at which your body can function optimally, a weight at which the systems of your body are efficient, a weight that works for you and that you feel good at.
Your ideal weight should be easily maintained with healthy, non-restrictive eating plans and a customized program of exercise and activity. Healthy weight loss is about challenging yourself to understand how and why you eat the way you do. Healthy weight loss is about incorporating movement and motion everyday. Healthy weight loss is not about achieving some abstract, acceptable standard of clothing size and attractiveness. Healthy weight loss is about you.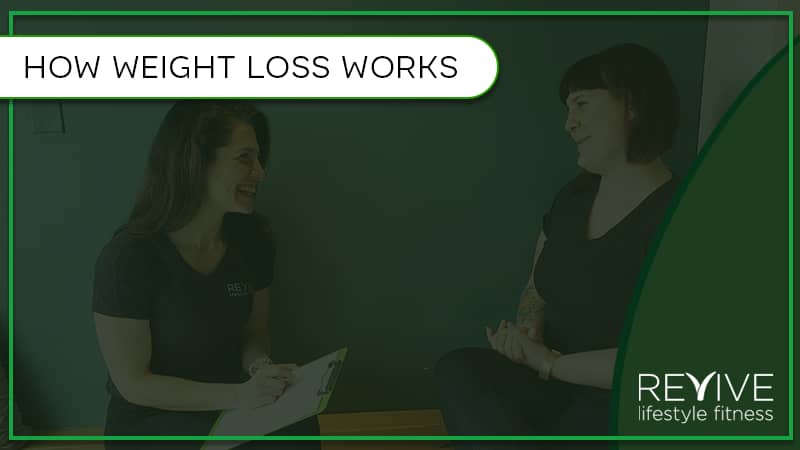 Fitness Focused Weight Loss.
Revive weight loss strategies are fitness-focused. We believe that the foundation of weight loss is movement and strength, supported with a program of healthy eating to give your body the nutrition it needs to function optimally. We know that a goal of weight loss without an underlying structure of cardiovascular and strength training is not sustainable. Our training team can help you structure your workout program to maximize your body's function and build strength and endurance to underpin your goals for weight loss. Our approach to weight loss is to stack sensible and sustainable nutrition advice on a solid program of motion and conditioning to change the way your fuel your body and to change the way your body leverages the food you eat.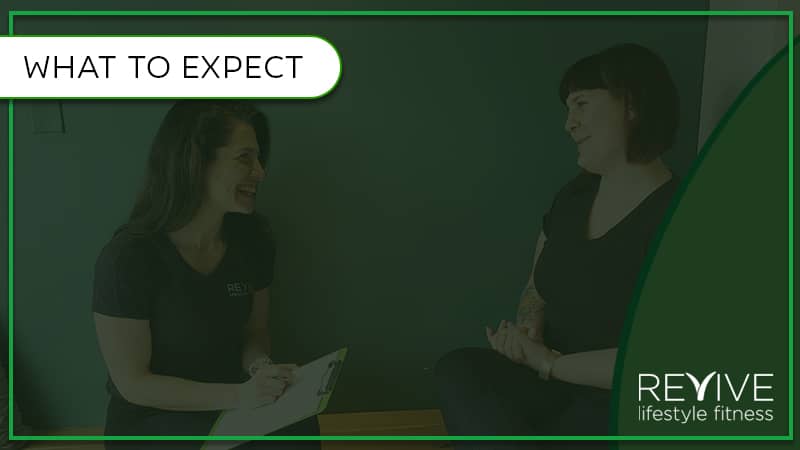 Strategies For Sustainable Weight Loss.
Accountability: Once you have set your goal for weight loss, accountability is key. It is too easy to skip a workout or make poor food choices when you are on your journey alone. You need accountability to yourself, and having a coach to check in with can keep you on track.
Body Composition Scan: When on a weight loss journey, tracking your progress on a scale is not always a true reflection of the transformation of your body. Weekly body composition scans can help you understand fat loss and lean muscle mass so you can see that weight loss is not just about a declining number on the scale.
Nutrition Support: Many members of the team of coaches at Revive are certified in Precision Nutrition Coaching and can offer nutrition guidance/support. This means your weight loss plan will involve a strategy to support the dietary needs of your body transformation.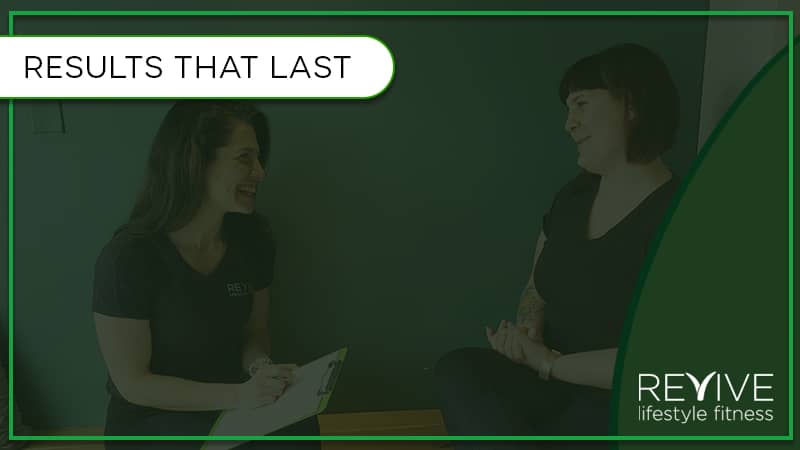 Results That Last.
Rapid weight loss from a restrictive eating plan is not tenable. People who undertake this type of weight loss program may see dramatic results, but then often fall into the cycle of yo-yo dieting. To achieve weight loss results that will last, targeted and sustainable lifestyle changes are essential. Sustainability is developed with a workout program that fits your schedule, your budget, and your goals for the long term; a workout program that is challenging, but invigorating. Sustainability comes when you know the food you eat is fueling your body sufficiently. Building healthy habits means understanding why your current behaviours are detrimental to your health and experiencing the rush you get when your body moves with strength and efficiency. The team at Revive Lifestyle Fitness is committed to helping you make the lifestyle changes that will give you fast and noticeable results, but that you can integrate for maximum health and well-being for years to come. That is why our motto is STRONGER FOR LONGER.
The Revive Advantage
Is your experience with traditional gym memberships disappointing? Are you tired of feeling like just another body in a jam-packed group fitness class? Are you looking for a fitness training option that offers personalized fitness strategies, support, accountability, and motivation? Are you looking for a better way to reach your fitness goals? Discover the Revive Lifestyle Fitness difference.
Membership: How It Works
When you are looking for a different, better way to achieve whole health and optimal fitness, consider Revive Lifestyle Fitness. Our skilled and professional fitness and health experts offer an elevated fitness experience to achieve your goals. Here is what you can expect when you explore the Revive Lifestyle Fitness difference.

1. Book An Intro Meeting

2. Create A Path To Success

3. Make Your Health A Priority

4. Your Fitness Journey
Book your complimentary intro meeting with us! We want to get to know you and learn more about where you feel stuck and where you need guidance. We want you to come in and get comfortable with the space, the team, and the other members.
Fitness Today. Health For A Lifetime.
Revive Lifestyle Fitness offers an elevated personal training and weight loss experience to achieve your fitness goals with the support of fitness and nutrition experts, and options for private, semi-private, and group personal training. Get stronger for longer and build sustainable habits for a lifetime of health and fitness at Revive.
Everyone's weight loss journey is unique. Your rate of weight loss is largely dependent on your level of commitment and your effort. It is also important to understand that weight loss is not always a sprint. Sometimes a longer race is the way to achieve healthy sustainable weight loss. That all said, it is possible, with commitment and effort, to lose up to 1% of your body weight each week.
Similar to the answer above, you can sustainably achieve a weight loss 1% of your body of your body weight each week. This means that if you weigh 200lbs you could lose 2lbs per week with a healthy sustainable weight loss and exercise program. The total amount of weight you can lose (or that you want to lose) can be dependent on your age, pre-program weight, and the length of time you stay with the program. Your trainer can help you set a target weight at the beginning of your weight loss journey.
Fitness is the foundation of it all. Have a solid fitness strategy to work out at least three times a week for weight loss (or for faster results, up to 5 times a week). Once you have that fitness foundation down, build nutritional habits on that foundation. Weight loss definitely requires a focus on eating habits, but the fitness component is what will keep the weight off for the long term.
It's Time To Revive & Thrive, Together!
We believe in keeping you STRONGER FOR LONGER. With access to Calgary's best personal trainers, and fitness and nutrition experts, book your free consult and take advantage of our 21-Day Trial offer to truly experience The Revive Difference.
Visit us at 2503 14th St SW in Calgary, fill out the contact form, or give us a call today at 1-403-700-0338, and let's carve your wellness journey, together!
Fitness Today. Health For A Lifetime.

Revive Lifestyle Fitness is Calgary's premiere small group personal training and lifestyle facility. We have worked hard to build an inclusive, connected community of people committed to living healthy today and for a lifetime. Our team of the industry's top fitness experts are ready to support you on your own unique journey to optimal health and fitness. We focus on measurable and remarkable total body and lifestyle transformations to help you achieve lasting health and wellness. We promise to keep you stronger for longer.