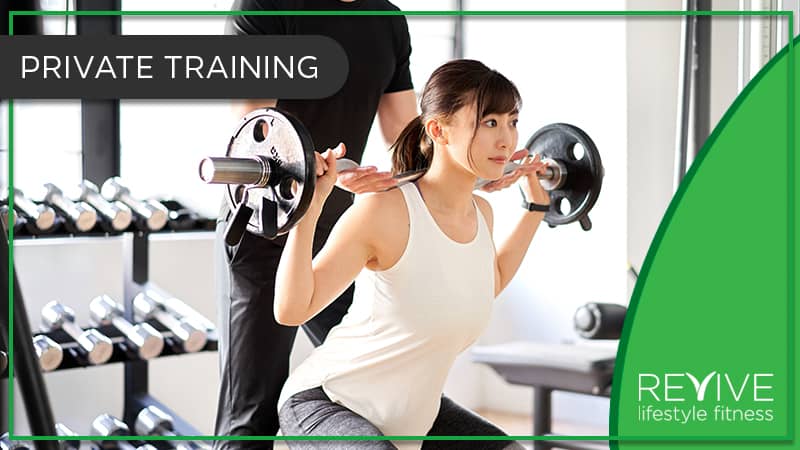 A Fitness Journey Designed Just For You.
Private training with a coach is a one-on-one, personalized fitness experience. When you choose private training you have your fitness coach's undivided attention. This can be an ideal option for those who are new to working out, those who need accommodations for training, or those with very specific fitness goals that require highly specialized training techniques. Here are the benefits of private fitness training:
Personal Attention: When you are just starting out, or if you are practicing advanced training techniques, private training sessions can ensure you have the personal attention of your coach to assess your form and execution for maximum results and reduced risk for injury. You get 100% of the coach's attention.
Privacy: Some of our clients value their privacy. It may be because they prioritize discretion, or because they are striving to reach a highly personal goal.
Motivation and Coaching: The close-knit nature of private training offers unique support and candid motivation.
The Revive Advantage
Is your experience with traditional gym memberships disappointing? Are you tired of feeling like just another body in a jam-packed group fitness class? Are you looking for a fitness training option that offers personalized fitness strategies, support, accountability, and motivation? Are you looking for a better way to reach your fitness goals? Discover the Revive Lifestyle Fitness difference.
Membership: How It Works
When you are looking for a different, better way to achieve whole health and optimal fitness, consider Revive Lifestyle Fitness. Our skilled and professional fitness and health experts offer an elevated fitness experience to achieve your goals. Here is what you can expect when you explore the Revive Lifestyle Fitness difference.

1. Book An Intro Meeting

2. Create A Path To Success

3. Make Your Health A Priority

4. Your Fitness Journey
Book your complimentary intro meeting with us! We want to get to know you and learn more about where you feel stuck and where you need guidance. We want you to come in and get comfortable with the space, the team, and the other members.
Fitness Today. Health For A Lifetime.
Revive Lifestyle Fitness offers an elevated personal training and weight loss experience to achieve your fitness goals with the support of fitness and nutrition experts, and options for private, semi-private, and group personal training. Get stronger for longer and build sustainable habits for a lifetime of health and fitness at Revive.
Private Personal Training FAQs
We recommend booking a consultation with our team to see if 1-on-1 training is right for you.
Sometimes a client needs specialized attention or a specific program to deal with a certain health challenge or injury. They may be new to fitness and not comfortable in a semi-private or group fitness setting. Sometimes a few private sessions are all you need to transition into semi-private or group training.
The average price per session for private training is $100-$110/ 50-minute session depending on the number of sessions you purchase.
It's Time To Revive & Thrive, Together!
We believe in keeping you STRONGER FOR LONGER. With access to Calgary's best personal trainers, and fitness and nutrition experts, book your free consult and take advantage of our 21-Day Trial offer to truly experience The Revive Difference.
Visit us at 2503 14th St SW in Calgary, fill out the contact form, or give us a call today at 1-403-700-0338, and let's carve your wellness journey, together!
Fitness Today. Health For A Lifetime.

Revive Lifestyle Fitness is Calgary's premiere small group personal training and lifestyle facility. We have worked hard to build an inclusive, connected community of people committed to living healthy today and for a lifetime. Our team of the industry's top fitness experts are ready to support you on your own unique journey to optimal health and fitness. We focus on measurable and remarkable total body and lifestyle transformations to help you achieve lasting health and wellness. We promise to keep you stronger for longer.