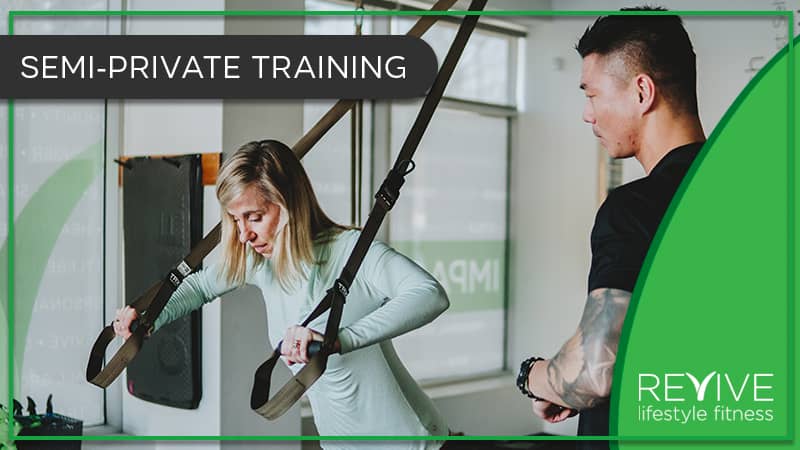 Small Groups. Big Results.
Semi-Private Personal training marries the best of both worlds: private personal training and small group fitness, with all the benefits of both. These small-group sessions are dynamic and fun while the small-group size facilitates individualized programming and personal attention. This is not a cookie-cutter program. Your coach will tailor the semi-private sessions to address your own fitness goals, with up to two other people fostering an intimate community of support, accountability, motivation, and shared fitness success. One of the best benefits of semi-private training is that the cost of a personal fitness coach is shared between group members making this model accessible to everyone.
The Revive Advantage
Is your experience with traditional gym memberships disappointing? Are you tired of feeling like just another body in a jam-packed group fitness class? Are you looking for a fitness training option that offers personalized fitness strategies, support, accountability, and motivation? Are you looking for a better way to reach your fitness goals? Discover the Revive Lifestyle Fitness difference.
- Andrea
"I started semi private training because I wanted to get stronger.
And as I experienced these sessions with a variety of different trainers, I realized just how fun they all were to work with.
And they all have a vested interest in not only me gaining strength, but also me having a lot of fun during these sessions and they know what I like doing, they know what I don't like doing and they know what I need and they focus on making me see results, but also on having a really enjoyable experience."
Membership: How It Works
When you are looking for a different, better way to achieve whole health and optimal fitness, consider Revive Lifestyle Fitness. Our skilled and professional fitness and health experts offer an elevated fitness experience to achieve your goals. Here is what you can expect when you explore the Revive Lifestyle Fitness difference.

1. Book An Intro Meeting

2. Create A Path To Success

3. Make Your Health A Priority

4. Your Fitness Journey
Book your complimentary intro meeting with us! We want to get to know you and learn more about where you feel stuck and where you need guidance. We want you to come in and get comfortable with the space, the team, and the other members.
Fitness Today. Health For A Lifetime.
Revive Lifestyle Fitness offers an elevated personal training and weight loss experience to achieve your fitness goals with the support of fitness and nutrition experts, and options for private, semi-private, and group personal training. Get stronger for longer and build sustainable habits for a lifetime of health and fitness at Revive.
Semi-Private Personal Training FAQs
This training strategy is membership-based and your per-session cost is based on the number of times per week you train. The most common membership is two workouts per week and the training program is adapted at the completion of each monthly cycle.
No, you can be at any fitness Level to participate in semi-private training because your fitness coach will personalize your training program just for you.
Your semi-private fitness journey begins with a complimentary consultation. We will ask you about your fitness and health history and your goals. We will start you with our 21-Day Trial, which is a template program that includes a personalized workout program. Your 21-Day Trial also acts as an assessment period. This is your starting point. Once you have completed the 21 days, you can choose your membership package and join your new semi-private fitness community.
It's Time To Revive & Thrive, Together!
We believe in keeping you STRONGER FOR LONGER. With access to Calgary's best personal trainers, and fitness and nutrition experts, book your free consult and take advantage of our 21-Day Trial offer to truly experience The Revive Difference.
Visit us at 2503 14th St SW in Calgary, fill out the contact form, or give us a call today at 1-403-700-0338, and let's carve your wellness journey, together!
Fitness Today. Health For A Lifetime.

Revive Lifestyle Fitness is Calgary's premiere small group personal training and lifestyle facility. We have worked hard to build an inclusive, connected community of people committed to living healthy today and for a lifetime. Our team of the industry's top fitness experts are ready to support you on your own unique journey to optimal health and fitness. We focus on measurable and remarkable total body and lifestyle transformations to help you achieve lasting health and wellness. We promise to keep you stronger for longer.